Rare leopard cubs born at Kent wildlife park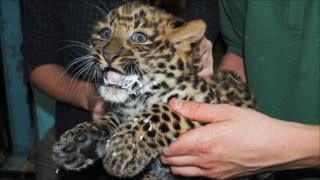 Two rare North Chinese leopards have been born at a Kent wild animal park.
The male cubs, were born at Howletts Wild Animal Park on 19 July, and were photographed for the first time when they received their first vaccinations this week.
It is believed there are just 2,500 North Chinese leopards in the wild and about 100 in captivity.
Park keeper Mark Hawkes said the cubs were the only ones of their kind in the UK.
The cub's four-year-old father Saian, arrived from Thoiry Zoo, France, in 2008 and was followed a few months later by their mother Ting-ting, from Zoo Karlsruhe in Germany.
'Heard cubs crying'
Mr Hawkes said: "We thought that Ting-ting might have been pregnant a month or so before she gave birth.
"Aside from looking bigger, her behaviour was slightly different, with her being more aggressive when keepers were around, and spending more time indoors, although it was hard to tell for certain as they are very secretive and timid cats."
He added: "We knew Ting-ting had given birth when we went to feed them one afternoon and could not find her.
"We checked the shed to see if she was there and heard the cubs crying.
"The cubs were first spotted by members of the public at approximately 5-6 weeks of age.
"This is the time when they would usually start to leave the nest-box and begin eating solids, although never venturing too far and always under the watchful eye of mum."