Orange Order stages Medway march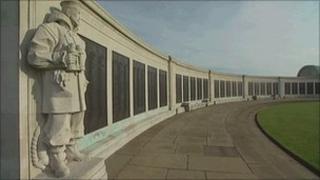 Hundreds of people have taken part in the first Orange Order parade in Kent for 50 years.
A rally and service was held at the naval memorial at the Great Lines in Medway before the parade in Gillingham.
Ron Bather, grandmaster of the Grand Orange Lodge of England, said members held a parade each year and this year they had been invited to Medway.
Mark Reckless MP said parades were associated with sectarian issues in Northern Ireland, but not in Kent.
The Conservative MP for Rochester and Strood said: "Unfortunately, in Northern Ireland and one or two other areas, there have been some sectarian issues, but it's not something we've ever had in Medway
"I don't think having the Orange Order coming here to commemorate comrades or march or show us their bands is going to change that in any way."
Before the event, Mr Bather said: "Each year, we travel around the country having our annual meeting, and this is our meeting this year.
"Last year, we were in Carlisle and next year we're on the Wirral.
"This year we've chosen or been invited down by the Gillingham branch. It's as simple as that."
Kent Police said roads were closed while the parade took place and added that the event had been organised in consultation with Kent Police and Medway Council.
A statement from Medway Council said: "Kent Police and Medway Council were approached by the Orange Order some months ago asking for permission for the march to go ahead.
"This was followed by consultations with the police and other authorities in England who have had similar marches.
"Based on this information, we had no grounds on which to consider applying for a ban on such a march."
The council said the route was agreed in consultation with both the police and the local authority.
The rally and service were held at 1430 BST, followed by the parade at 1500 BST.