Ashford church arts venue to proceed following appeal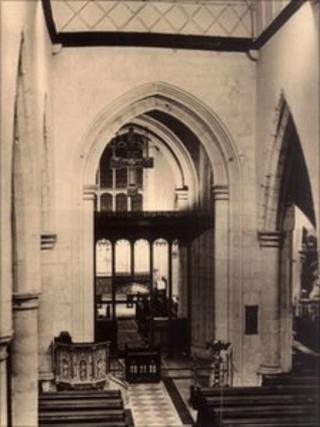 Work on a Kent church to turn it into an arts venue is due to start after an appeal against the scheme was dismissed by the Church of England.
Christopher Cooper appealed against the project at St Mary's in Ashford, but his bid failed and he must pay costs.
Councillor Bernard Heyes said Mr Cooper had used every legal avenue available to stop the work, but his arguments had been rejected on every occasion.
Mr Cooper said he was exploring his options and wanted a public inquiry.
Under the scheme, the church will be a "shared sacred space" and will act as both a church and an arts venue.
Mr Cooper, a bell ringer who has bought a house near the church, is waiting to hear what he will have to pay in terms of court costs.
He said: "It's not brilliant architecture. It's main interest is its Victorian furnishings, its pulpit and pews.
"But it's a beautiful church, the best sort of English church. If it was in a village or in the countryside, it would be valued differently. It's a historic and important town church in the historic heart of Ashford. It is the last little gem left in Ashford."
And he added: "This is my spiritual home, and the spiritual home of people in the town. I'm not going to roll over and just forget about it."
The appeal was heard before the Dean of the Arches, head of the ecclesiastical court of the Archbishop of Canterbury.
After the appeal, Judith Armitt, managing director of Ashford's Future which is overseeing the project, said: "After an extended opportunity for all objections and support to be heard, we are at last able to proceed.
"I am delighted we can start work on this fantastic project, and welcome in a new era of arts excellence for Ashford."
The Reverend Colin Preece, of St Mary the Virgin Church, added: "St Mary's church is, and should always be, a shared sacred space for both religious and secular visitors.
"This work will not only safeguard the future of this ancient building, but will also bring many more people from all walks of life through its doors."