Sandwich celebrations mark ancient Cinque Port honour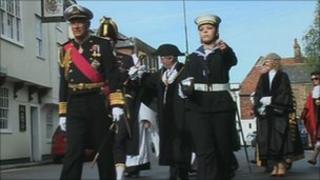 Celebrations have taken place to mark an ancient honour being conferred on an east Kent town mayor.
For the next 12 months Dr Terence Clifford-Amos, the Mayor of Sandwich, will take on the position of Speaker of the Cinque Ports.
The role, an ancient jurisdiction and honour, dates from the 16th Century and was last held by the Mayor of Dover.
A procession through the town earlier was followed by a service attended by the Bishop of Dover.
The Cinque Ports in Kent and Sussex were responsible for helping to defend England from invasion across the Channel in medieval times.
The Crown granted the towns special status in recognition of their local seafarers and fishermen defending and policing the coastline.