Canterbury Cathedral puts stained glass windows on show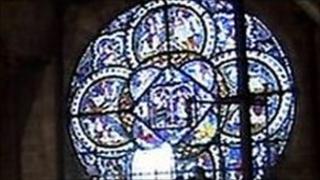 Visitors to Canterbury Cathedral are being given the opportunity to have a close-up look at stained glass windows which date from the 12th Century.
The four windows were removed from the south window while it was being assessed and restored.
The stained glass panels depict Methusaleh, Lamech, Josiah and Hezekiah who were ancestors of Christ.
The windows will be displayed in light boxes in the cathedral's western crypt for the next few months.
The stained glass panels were originally in the clerestory windows of the cathedral quire and date from the time the cathedral was rebuilt after the 1174 fire.
The panels which have been in the south window since the 18th Century had to be removed and placed in storage while repair work to the window takes place.
The renovation work is expected to take two years to complete.