Waste company fined over death of worker in Kent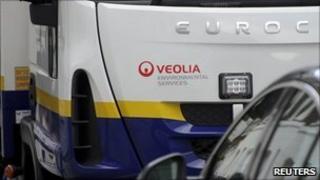 Waste company Veolia has been fined £225,000 after a litter collector died in a collision between one of its vehicles and a lorry.
Agency worker Damian Griffiths, 20, from Swanley, Kent died in the accident on the A228 in East Peckham in 2007.
Veolia was found guilty of breaching the Health and Safety Act by a jury at Maidstone Crown Court in August.
The company said it regretted the death of Mr Griffiths, but believed it was an accident and would appeal.
Mr Griffiths was litter picking on a grass verge, with a colleague driving the caged Veolia vehicle alongside him, when the crash took place.
'Devastating consequences'
A large goods lorry collided with the caged vehicle, shunting it into Mr Griffiths who died at the scene.
Veolia Environmental Services, based in Pentonville Road, Islington, north London, was found guilty on two counts of breaching the 1974 Act.
The company was also ordered on Tuesday to pay costs of £95,239.
Health and Safety Executive inspector Caroline Penwill said the death of Mr Griffiths had devastating consequences for his family.
"Veolia failed to ensure Mr Griffiths' work activity was safe and properly planned," she said following sentencing on Tuesday.
"Litter-picking near busy roads can be a high-risk activity if not properly planned.
'Disappointed with verdict'
"Veolia was responsible for managing these works, but in this case did not properly protect the roadside crew from oncoming traffic."
Veolia's executive director Richard Berry said: "No workplace accident is acceptable. Both legally and morally we have an obligation to take all reasonable steps to prevent such accidents."
But he added: "We are disappointed with the jury's verdict as we believe this was the result of a road traffic accident and based on this we are seeking to appeal this matter.
"We take a proactive approach to a safe working environment and continually invest in training and equipment to reduce accidents and to generally develop a culture of environmental and safety awareness."