Dover school protest teenagers bailed by Kent Police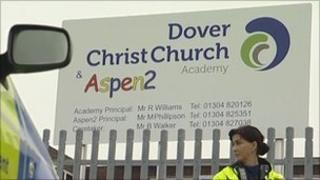 Two former pupils arrested when hundreds of children walked out of a Kent school in protest at changes to the timetable have been bailed.
The teenagers were arrested on suspicion of causing criminal damage and public order offences at Dover Christ Church Academy on Monday.
The boys, aged 15 and 16, had already been excluded from the school.
Pupils said the protest was mainly about changes to the lunch hour, which meant they were split into two groups.
Kent Police said the pair have been bailed until later this month pending further inquiries.
Damaged cars
Between 200 and 300 children are understood to have taken part in the protest at the school, which opened as an academy less than a month ago.
The school gate and three or four cars belonging to staff were all damaged.
Officers also arrested a 43-year-old man outside the school gates on suspicion of common assault and a public order offence.
A force spokesman said he was issued with an £80 fixed penalty notice but released without charge.
Head teacher Richard Williams said the the incident had been "unfortunate for all concerned".