Five arrested as £150,000 seized at Kent ports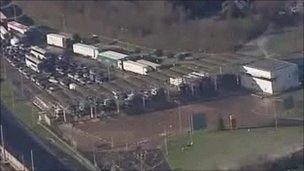 Five men have been arrested and cash worth nearly £150,000 confiscated in a series of seizures at two Kent ports.
Police said the cash, believed to be the proceeds of crime, was seized at the Channel Tunnel and Dover's Eastern Docks over a period of four days.
In the latest seizure, on 3 October, about 80,000 euros (£70,000) was found in several packages after two Serbian men were stopped in a car at Dover.
The two men, both in their 40s, were held on suspicion of money laundering.
The previous day two Kosovan men were stopped in a car at the Channel Tunnel at Folkestone as they were leaving the UK, but only one was arrested .
The 29-year-old passenger was arrested on suspicion of money laundering after a carrier bag underneath the passenger seat was found to contain 43,000 euros (£37,500) and £6,000.
Two Albanian men aged 29 and 38 were arrested after their pick-up truck was stopped at the Channel Tunnel on 30 September.
About £33,000 was found in a camera case and the men's wallets.
All the men arrested have been bailed pending further investigations.
"Kent is the gateway to both the UK and Europe," said Det Insp Charlie Stokes.
"Whilst it's not uncommon to apprehend people carrying large sums of money, it is unusual to find such large amounts in such a short space of time."
Related Internet Links
The BBC is not responsible for the content of external sites.