Kent MP demands action over bogus charity collections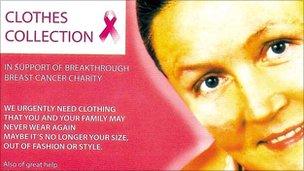 A government minister has promised action to clamp down on bogus charity collectors after a Kent MP claimed half of doorstep collections were illicit.
Tracey Crouch, MP for Chatham and Aylesford, secured a parliamentary debate following a BBC South East special report.
She said "real action" was needed to restore public confidence.
Minister for Civil Society Nick Hurd said the issue would be considered in a review of the Charities Act.
But he said he opposed further legislation, which he suggested could be counter-productive.
Ms Crouch spoke during a 30-minute debate after seeing BBC South East footage of bogus charity workers collecting clothes in Chatham which they said were for Breakthrough Breast Cancer, but which were actually sold for profit in eastern Europe.
She said what happened in Chatham was happening all over the country every day, and she urged "real action" to restore public confidence.
The BBC investigation showed people claiming to be collecting on behalf of Breakthrough Breast Cancer taking bags of goods left out by householders who believed they were donating to the charity.
The report revealed the collectors were not authorised to collect on behalf of Breakthrough, and had used the charity's number on its flyers. The goods were then sent to eastern Europe.
Ms Crouch said such organisations were depriving charities of up to £14m a year, and called for a series of measures, including improvements to the licensing system for collections, better monitoring of national borders, a tougher approach by police and stronger deterrents.
Mr Hurd backed her concerns, saying: "What concerns me is the issue of public confidence."
Related Internet Links
The BBC is not responsible for the content of external sites.