Victim's brother recalls Treeby nephew's laugh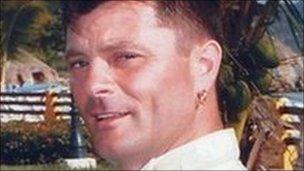 A man who was beaten up and shot during an attack in Kent in which his brother was killed, has told a court he heard his nephew laughing as it happened.
Father-of-five Jack Treeby, 43, died after being run over with a Range Rover in Tovil, near Maidstone, in December.
His brother Bill Treeby, 50, Bill's wife Charity Treeby, 51, and their sons Billy Treeby, 29, and George Treeby, 23, all of Paddock Wood, deny murder.
At Maidstone Crown Court, Gary Treeby recalled he "got half beat to death".
He told jurors: "I remember getting shot. I remember falling to the floor... being beat.
"Something hit me on the top of me head. I remember a few of them beating me.
"I can remember little George there laughing at me."
When asked by prosecutor Jonathan Higgs how he knew his nephew was laughing at him, he replied: "I know his laugh."
The four defendants are also accused of attempting to murder Gary Treeby.
The four, of Queen Street, also each face a charge of causing grievous bodily harm (GBH) with intent to Gary Treeby.
They are also accused of the attempted murder and attempted GBH of Jack Treeby's son, Jack.
The family deny all charges against them.
Asked in court if he could think of anybody else who might have had cause to attack him, Gary Treeby replied "no".
The court has heard how two possible causes of tensions between the two sides of the large Treeby family could have led to the events of 27 December 2009.
A dispute over property that was handed over from their mother when she died, and Bill Treeby reporting to authorities that his uncle Jack Treeby had been falsely claiming benefits.
Kent Police were called to Quarry Road just before 1900 GMT on 27 December, following reports that two men had been seriously injured in a collision.
A man who suffered minor injuries after being hit by a vehicle was also treated at the scene.
The trial is expected to last up to nine weeks.
Related Internet Links
The BBC is not responsible for the content of external sites.