Social housing waiting list rises in Thanet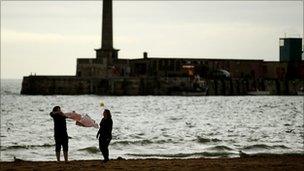 The number of people in Thanet needing council or housing association-owned homes has risen by more than 20% in the past 12 months.
Thanet District Council said there are now almost 6,000 households on the social housing waiting list.
Thanet Citizens Advice Bureau said many families who rented in the private sector could no longer afford to do so.
Manager Ian Driver said he feared the situation would get worse following the UK government's spending review.
The review, to be announced on 20 October, will unveil cuts aimed at tackling the country's deficit.
Mr Driver said the number of people seeking their help has increased by 30% in the last 12 months.
"I'm quite worried what the future's got in store for Thanet.
"There are more and more people who simply can't afford somewhere to buy but it doesn't take a genius to know that there simply isn't enough housing stock.
"With the package of government cuts that are going to be announced next week, I'm quite frightened what that's going to mean not just for the housing waiting list but for agencies like the citizens advice bureaux."
Cllr Chris Wells said it took an average of about five years to get to the top of the waiting list.
He said the local authority had set up a home debt helpline to advise families who were struggling financially.
"These are people who were not involved in benefits or housing waiting lists before and probably don't know where to start looking," said Mr Wells.
Related Internet Links
The BBC is not responsible for the content of external sites.