Thanet school's cash reward for attendance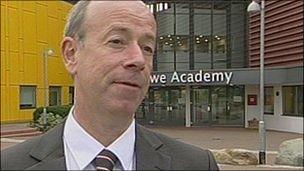 A Kent school is offering Year 11 pupils a £150 reward if they meet the school's attendance target and pass a minimum of five exams.
The Marlowe Academy in Thanet has also signed up to an incentive scheme, which awards younger pupils points for good behaviour and attendance.
Under the scheme, the children can build up points on a loyalty card to spend later on goods in a catalogue.
Principal Ian Johnson said incentive schemes had many benefits.
He said: "I think we need to recognise that schools have been doing this for years.
"When I was at school I won a cricket bat which was worth quite a bit of money because I played well in the school team.
"Other children were given expensive books and all sorts of things."
Under the Vivo Miles scheme, pupils can earn around £3.80 a year for turning up every day, but can earn extra points for good performance and behaviour.
Other schools across the country have adopted the scheme.
The pupils can then spend the cash they have earned on on items including mobile phones, cinema tickets and MP3 players.
The £30m Marlowe Academy replaced the failing Ramsgate School in 2005 and is being run by the Roger De Haan Charitable Trust.
The Year 11 incentive scheme is paid for by the school's charitable trust fund, while £7,000 for the Vivo Miles scheme comes from the school's annual budget.
Successful students must achieve the school's 93% attendance target and pass five exams including English and Maths GCSE.
Mr Johnson said: "The look of delight on our youngsters' faces in Year 11 and their parents when they received their cheques was fantastic."
Pupil Louise Parsons, 16, said: "I think it's really good because it's making a lot of kids work harder."
Ben Palmer, 17, said: "(Pupils) should really just turn up but some kids don't see the need of going to school, they'd rather just go and work."
Related Internet Links
The BBC is not responsible for the content of external sites.