Tracey Emin's neon tribute to Margate sold at auction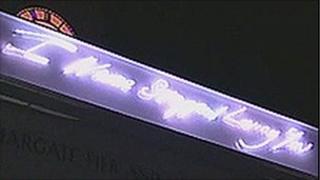 A neon sign made by artist Tracey Emin and displayed in a Kent seaside resort has sold at auction for more than double its guide price.
I Never Stopped Loving You, a pink neon text, was installed on the facade of Droit House, a distinctive building on the seafront in Margate.
It was bought by a telephone bidder for just under £59,000 when it went under the hammer in London.
The proceeds will go to the Turner Contemporary gallery in Margate.
The artist, who grew up in Margate, created the sign to mark the last year before the £17.4m site is due for completion.
The art gallery is intended to be one of the linchpins of regeneration for the town.
Bidding for the artwork started at £1,000, with no reserve, and the guide price was £20,000 to 30,000.
I Never Stopped Loving You, which is in Emin's handwriting, was commissioned by Turner Contemporary with the support of Thanet District Council.
Emin said she came up with the idea for the neon artwork for Margate quite a few years ago, but it was at first refused by the council.
"I was very hurt as I felt that my neon was a show of love and affection for the place in which I grew up," she said.