Campaigners lose west Kent grammar school selection bid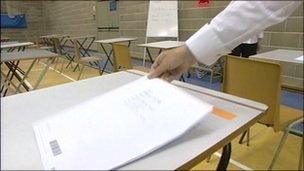 Campaigners calling for changes to grammar schools selection in west Kent have lost their appeal.
Nearly 200 complaints were lodged against the selection policies of Tonbridge Grammar School, Judd School and the Skinners School.
The schools adjudicator Dr Bryan Slater ruled they could keep their admissions criteria - based on 11 plus results rather than where children live.
Most of the objectors claimed the policy denied places to local children.
In his report, Dr Slater said he could not see anything wrong with the admissions policies of the three schools.
In a statement, Tonbridge Grammar School said: "The Governors of Tonbridge Grammar School are delighted that the Adjudicator has upheld the fundamental principles of the School's Admission Arrangements and made only a minor change to the wording of the existing policy in order to make the school's determined Admission Arrangements clearer with respect to the number of Governor places available."
Following the ruling, Sevenoaks MP Michael Fallon called for an increase in grammar school places in west Kent.
He said: "It's Kent's grammar schools system, it has to be planned by Kent. They are responsible for making sure everyone has a place and there simply aren't enough places.
"The big problem really is if only one school out of say 10 was operating this policy of super selection then the system could probably accommodate it but when there are three schools out of six doing it the whole thing gets distorted.
"I fear now there are going to be an ever increasing number of appeals and pupils having to wait right through to June, July until they get allocated to a school that they have not necessarily chosen."
Related Internet Links
The BBC is not responsible for the content of external sites.