Boy 'saw father's body in street' after Tovil attack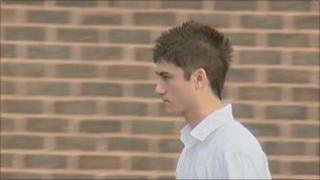 A teenager has told a court he saw his father's body lying in the street and blood running down the pavement as a family feud erupted in violence.
Jack Treeby Jnr, 17, was injured in the attack in Kent in which his father, Jack, died and his uncle Gary was shot.
Another uncle, Bill Treeby, 50, Bill's wife Charity Treeby, 51, and their sons Billy Treeby, 29, and George Treeby, 23, all of Paddock Wood, deny murder.
They also deny the attempted murder of Jack Jnr and Gary Treeby.
All four defendants, of Queen Street, Paddock Wood have also pleaded not guilty to causing grievous bodily harm with intent to Gary Treeby and attempting to cause grievous bodily harm with intent to Jack Jnr.
Jack Jnr told Maidstone Crown Court that he was at his mother's home in Tovil, Maidstone, on 27 December 2009 when he heard shouting in the street.
He went outside and saw a 4x4 vehicle driving towards him flashing its lights. It then mounted the pavement and hit him, badly bruising his ribs and arm.
He said that as the car drove past, he heard a voice, which he believed was that of Bill Treeby, saying "bye-bye".
The court heard that he then went round the corner to Quarry Road, where he saw his father, who had been run over, and his Uncle Gary on the ground.
"I saw my Dad lying on the floor," he said.
"I just screamed out, he wasn't moving. People were trying to stop me seeing him, I just saw blood running down the pavement."
The court has been told that two possible causes of tension between the two sides of the large Treeby family could have led to the events last Christmas.
One was a dispute over property that was handed over from the Treeby brothers' mother when she died, and the second was Billy Treeby reporting to authorities that his Uncle Jack had been falsely claiming benefits.
The case continues.