Repairs begin on Deal timeball's snapped mechanism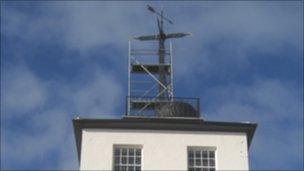 Work has started to repair the Deal timeball after it crashed on to the semaphore tower roof.
The steel belt holding the fibreglass ball in place above the tower snapped at 1455 BST on 18 August.
Clock repairer Roy Sergeant said: "Taking it out rusty in a force eight has been a challenge so we have had to wait for fine weather."
The timeball in the east Kent town was designed to drop at 1300 GMT to give an accurate time check to ships off Deal.
The four-storey semaphore tower was built in 1821 as part of a chain of 12 communication towers which enabled the navy to send messages to the Admiralty in Greenwich.
In 1855 it was converted into a timeball and was the first to be operated by a direct signal via the South Eastern Railway.
The ball was dropped at 1300 GMT exactly and was operated by a tower keeper who lived on site.
At 1255 GMT the ball was lifted to a halfway position to warn observers that a drop was imminent.
At 1257 GMT it was lifted to the top were it was held. Then at 1300 GMT an electrical impulse, sent down the railway wires from Greenwich, released the catches so the ball dropped rapidly.
It is hoped repairs can be completed in time for the new year celebrations when crowds gather on the seafront to watch it mark the turning of the new year.
Related Internet Links
The BBC is not responsible for the content of external sites.