Lights switch-on at Chatham's historic fort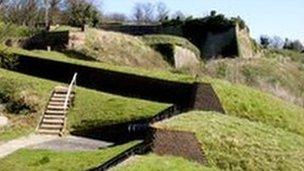 An historic fort in Kent is to be bathed in light when feature illuminations are switched on.
A cannon will be fired to signal the switch-on of the lights at Fort Amherst in Chatham on Thursday.
Work began six months ago on the low energy lighting at six areas of the fort as well as the war memorial at the Great Lines Heritage Park.
It is part of an ongoing revamp as part of the World Heritage Site bid for Chatham dockyard and its defences.
Fort Amherst was constructed in 1756 to defend the naval dockyard and the River Medway against the threat of a French invasion.
It has been described by English Heritage as the most complete Napoleonic fortification in Britain.
Rodney Chambers, leader of Medway Council, said the fort had played a significant part in the area's illustrious history.
"I am very proud we will now be able to light up the fort," he added.
It is hoped the heritage site bid will be submitted in 2012, the same year that Medway will compete for city status.
Related Internet Links
The BBC is not responsible for the content of external sites.