Swale council trolley clear-up criticised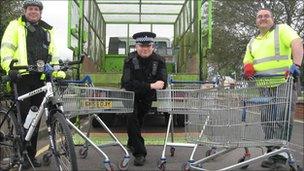 Council and police officers who spent two hours collecting abandoned shopping trolleys in Kent have been criticised.
The clear-up in Sheerness on Thursday saw 43 Tesco trolleys collected by two police constables, two council street wardens, and a Tesco staff member.
Gordon Henderson MP said the council should have made Tesco do the work.
Swale council said the work fell under its safety remit. Tesco said it needed council assistance to retrieve trolleys from some gated areas.
Ch Supt Matthew Nix also defended the move and said members of the public had raised concerns about trolleys and Kent Police were there to address the issues.
He said: "The police officers were on patrol as part of their daily business. They were available to deal with anything that came up and any incidents and any requests from the public."
But Mr Henderson, Conservative MP for Sittingbourne and Sheppey, said: "They should have asked the supermarket for someone to go out and collect the trolleys that needed collecting. Swale Borough Council and the police obviously knew the location. They should have given someone a list of where they were and asked them to collect them."
He said he welcomed the council and police taking action over the problem, but added: "I want to know why they didn't immediately contact Tesco and ensure they accept responsibility for doing it."
He also added: "It's important not to isolate Tesco. All supermarkets have responsibility to keep control of their trolleys."
Councillor David Simmons, environment spokesman for the Tory-run authority, said: "Swale Borough Council, working in partnership with the police, has a responsibility to make people feel safer where they live, and so this absolutely falls under our remit."
He said there were safety concerns about alleyways becoming blocked with rubbish or trolleys, and it was a real problem that should not be derided.
Tesco issued a statement which said: "Our staff carry out regular collections. If trolleys are abandoned on the streets, customers can notify the store and we will arrange to collect them.
"In this instance, a number of trolleys had been left in gated areas to which our staff had no right of access and therefore required support from the local authority."
Related Internet Links
The BBC is not responsible for the content of external sites.