Spending Review: Kent County Council to cut 1,500 jobs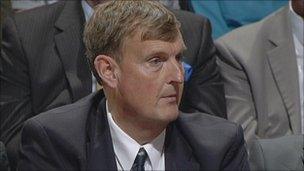 Kent County Council (KCC) has confirmed it plans to axe 1,500 jobs over the next four years following the government's Spending Review.
The Conservative authority had been preparing for the cuts before the Chancellor's announcement that councils would have to reduce budgets by 7.1%.
The council, which has an annual budget of over £2.4bn and employs about 12,000 staff, will now have to save £340m.
Council leader Paul Carter said services would be more efficient.
He said it was too early to say what exactly would be affected by the cuts and all services were being looked at.
He said that as far as possible the council would maintain the "very best level of services to the general public" but there would be "less money after we've driven through the efficiencies in the organisation".
"This is a real sledgehammer blow - we will have to look even deeper in the organisation than we have before," Mr Carter said.
On Friday morning, members of the public sector union Unison were handing out leaflets against the cuts outlined in the Spending Review at Chatham railway station.
David Lloyd, branch secretary for Kent, said he was hoping members of the public would make their views known to authority officials.
He said the morale of public sector workers was currently very low and was going to get lower.
Related Internet Links
The BBC is not responsible for the content of external sites.