Graffiti vandals damage listed church ruin in Eastwell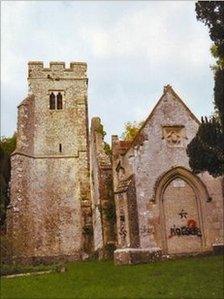 Vandals have caused damage that will cost thousands of pounds to clean up at a ruined ancient church in Kent.
Swastikas, a skull and anti-Semitic words have been painted on to what would have been the aisle and exterior walls of St Mary's Church in Eastwell.
The attack on the ruin, which has listed building status, happened some time during the first two weeks of October, police said.
Det Con Matthew Avery described the graffiti as offensive.
"All graffiti is vandalism, however to do this to a church, even if in ruins, is despicable behaviour," he said.
Matthew Saunders, director of Friends of Friendless Churches, who own St Mary's Church ruins, added: "To make a church a canvas for spreading racial hatred is appalling.
"We have consolidated the ruins of St Mary's at some considerable expense and to have to spend more money on removing these violent offensive words is not how we expected to have to allocate our very limited resources."
Related Internet Links
The BBC is not responsible for the content of external sites.