Spending Review: Kent teachers criticise cuts to sport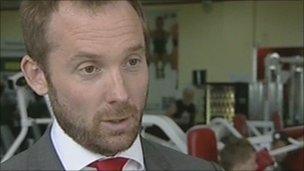 Sports coaches and teachers in Kent have criticised cuts in school sports funding outlined in the government Spending Review.
The Department for Education announced it is no longer providing ring-fenced funding for School Sport Partnerships.
The scheme aimed to improve sports opportunities in schools and develop links with clubs in the community.
Jon Waston, the head of sport at Canterbury High School, said it was a "huge kick in the teeth".
He said: "I don't know how, as we move towards 2012 with funding cuts, how we are going to maintain the legacy that this government hope we can after the Olympics."
Chancellor George Osborne unveiled an £81bn package of spending cuts in the Commons on Wednesday aimed at tackling the country's deficit.
About £160m of public funding for the 450 School Sport Partnerships currently running in England was withdrawn.
Phil Karnavas, the headteacher of Canterbury High School, said: "Demonstrably, the benefits of sport are obvious.
"Health, reduction in anti-social behaviour and better performance in the classroom.
"The country can't have it both ways. It can't whinge and bleat about how we never win anything and then not invest in child sport."
Pete Le Rossignol, a school sports coach in Ashford, now faces redundancy.
He said: "I can just see it going back to 15 years ago, where you've just got football and netball and that's probably about it."
Related Internet Links
The BBC is not responsible for the content of external sites.