Canterbury solicitor jailed over fraud scam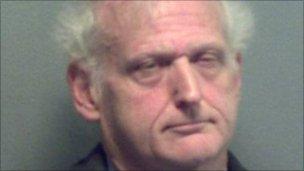 A Kent solicitor has been jailed for five years over a series of fraud-related offences.
Derek Speed, 58, of Dextor Close, Canterbury, had admitted 14 counts of fraud at Maidstone Crown Court last month.
Kent Police said Speed used fake identification documents to transfer money and shares from clients to accounts he held.
It is estimated he benefited by almost £250,000.
The offences were committed while Speed was practising as a solicitor at a small family firm in Staplehurst.
His fraudulent activities came to light when he was abroad on holiday in Romania in 2009.
Kent Police said his actions had had a "catastrophic effect" on the senior partner of the law firm and her family.
Det Insp Mark Fairhurst said: "Speed abused his position as a solicitor, deceiving his employer, and fraudulently obtained £250,000 from client accounts.
"Speed showed a level of premeditation and planning that was calculated and callous to deceive those around him."
Related Internet Links
The BBC is not responsible for the content of external sites.