Fire alarm response could be cut in Kent shake-up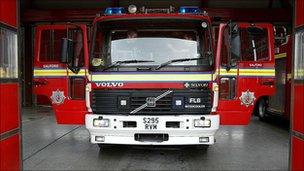 Firefighters in Kent could stop responding to every automatic fire alarm (AFA) from 2012 unless there is evidence of a genuine emergency.
Kent Fire and Rescue (KFRS) said in the past seven years it had attended 42,848 AFAs, of which only 613 were fires, which was a waste of taxpayers' money.
The change is one of a series of recommendations which will save £4m each year for the next four years.
Efficiency savings will also mean 40 administration jobs will go.
But KFRS said there would be no compulsory redundancies.
A statement from the fire service said it was proposed that KFRS would stop responding automatically to AFAs unless emergency teams received a call from a member of the public to report a genuine fire or incident.
It said an exception would be made for high-risk premises or people, and in those cases firefighters would still attend AFAs.
A report looking at the future of the service up to 2020 also proposed new fire stations in Medway and Thanet but the merger of others.
Two new fire stations were planned for Medway, but the future of Chatham and Gillingham stations, currently staffed by part-time crews, was in doubt.
Thanet would get extra 24-hour emergency cover from an increase in the number of engines at Ramsgate and Margate from three to four, while Ramsgate would get a replacement for its 100-year-old fire station.
But Thanet's fire station at Westwood Cross would be decommissioned and sold, along with the old Ramsgate station.
Proposals are yet to be put forward for other areas of Kent.
Jim Parrott, from the Fire Brigades Union (FBU), said members' biggest concern was the impact on response times in Kent.
He also said a "blanket cut" on responding to all automatic fire alarms was dangerous.
"If it is a very modern building with a modern fire alarm system then they may be able to cut that," he said.
"But what they're doing is a blanket cut across all the types of automatic fire alarms and that's a dangerous thing to do."
Deputy chief executive of KFRS Ann Millington said: "What we're doing is moving resources to where those risks are and in fact the service will improve."
She said: "What we've been very careful about doing, is looking at the review in order to make the changes we need to make to improve services and, as a consequence, find the money.
"What we haven't done is say let's find some money and cut wherever just to find the cash."
Adding that retained firefighters would receive more training, she said: "In no way is this going to put lives at risk and in fact certainly with firefighters will enhance their safety."
Councillor Keith Ferrin, chairman of Kent and Medway Fire and Rescue Authority, said: "The county has changed beyond recognition since the 1950s when most of our stations were built.
"We must help the public understand that their safety does not depend on a fire station on every corner.
"To meet the needs of 2010 and beyond, we need to have the right number of stations, with the right equipment, in the right locations."
The report, called Towards 2020, also suggests moving retained firefighters to part-time contracts, giving them the same rights as full-time crews.
Related Internet Links
The BBC is not responsible for the content of external sites.