Charles Dickens treasures made available to public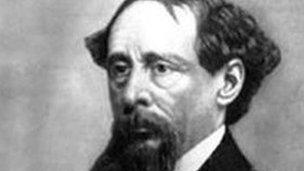 One of the most comprehensive collections of Charles Dickens memorabilia is to be made available to the public for the first time.
Hundreds of books written by or about the celebrated writer can be accessed by members of the public from December at the Medway Archives in Strood.
The Fitzgerald Collection has until now been hidden from public view, held in storage at the centre.
From 8 December the public can view the unique collection on request.
Percy Fitzgerald, an author and critic, was a personal friend of Dickens and wrote for his magazines Household Words and All The Year Round.
He donated his collection of Dickens memorabilia to Eastgate House Museum, Rochester, in 1912, where it was displayed for a while before going into storage. Hidden from public view, it was removed to the archives centre and catalogued with a view to opening it up to researchers.
The collection of about 400 pieces includes all Dickens's major novels plus many of his minor works, valuable first editions, translations into Dutch and Russian, a Braille edition, photographs of the novelist and a "scrapbook" with Victorian picture cards of Dickens characters stuck to its pages.
The books are kept in secure storage in Fitzgerald's original bookcases.
Medway archivist Alison Cable said: "One of the things that makes this comprehensive collection so special is that it was put together by someone who knew Dickens."
To view the priceless collection visitors need to book in advance through the archives and local studies centre and produce personal identification on arrival.
Dickens spent part of his childhood in Chatham and many of his works feature Kent. He died in the Medway village of Higham in 1870 at the age of 58.
To mark the launch of the collection on 8 December, which also coincides with the 150th anniversary of the first chapter of Great Expectations being published, the centre is holding a Dickensian day that includes talks and a play.
Related Internet Links
The BBC is not responsible for the content of external sites.