Duchess unveils bust of RAF hero Sir Keith Park in Kent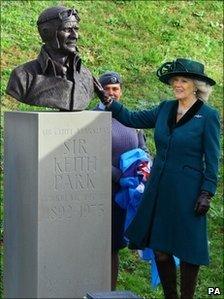 The Duchess of Cornwall has unveiled a sculpture of RAF hero Sir Keith Park at the Battle of Britain National Memorial to the Few in Kent.
Sir Keith commanded RAF squadrons that defended London and the South East from Luftwaffe attacks in 1940.
Camilla unveiled the bronze bust during a tour of the cliff-top memorial at Capel-le-Ferne, near Folkestone.
She also met the oldest surviving serviceman who fought in the Battle of Britain, Flt Lt William Walker, 97.
The site includes a memorial wall listing the names of nearly 3,000 airmen who took part in the battle between July and October 1940.
Flt Lt Walker said it was about the fifth time he had met the duchess and he was delighted to see her again.
He said: "The main thing is that I am fortunate to have survived long enough to see the wall erected and at long last a bust of Sir Keith unveiled.
"It was a great pleasure to see it. It's good of her to come down and unveil it, we appreciate it very much."
The duchess was saluted by young members of the Folkestone air cadets and prayers were said by Chaplain-in-Chief of the RAF Ray Pentland.
Chairman of the memorial trust Richard Hunting gave a speech thanking the duchess and paying tribute to Sir Keith.
He read out a quote from Lord Tedder, the Chief of the Air Staff in 1947, who said of Sir Keith: "If ever one man won the Battle of Britain, he did.
"I don't believe it is realised how much that one man, with his leadership, his calm judgment and his skill did to save not only this country but the world."
The duchess also visited Kent and Canterbury Hospital's osteoporosis department.
She was concluding her tour of Kent with a trip to the Medway Aircraft Preservation Society's (Maps) workshop in Chatham.
Volunteers from the society are currently restoring the last remaining example of a Boulton Paul Defiant WWII fighter for the RAF Museum London.
The aircraft, which has not flown since the war, was built in 1938 and was one of 1,200 to be constructed.
Related Internet Links
The BBC is not responsible for the content of external sites.