Mother's horror at internet sex crime of Kent man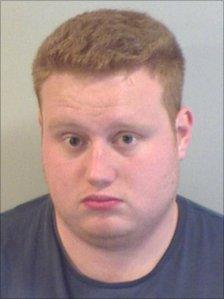 The mother of a victim of a sex offender who targeted teenage girls on Facebook has said she was horrified when she found out what had happened.
Joseph Peacock, 21, of Lodge Oak Lane, Tonbridge, Kent was jailed on Wednesday after admitting engaging in sexual activity in the presence of a child.
The mother said her daughter was among a number of girls he befriended.
Facebook said the case was a reminder to people to use caution when talking to people they knew via the internet.
"The first I knew about it was when the school rang me to say my daughter had been in contact with this fellow," said the girl's mother.
"He had been in contact with several other girls in the school and they were giving all the details to the police."
Using the pseudonym Carl Sharpe, Peacock duped the girls by pretending to be a teenage boy.
After befriending them on Facebook, he persuaded them to watch sexual acts on a web cam.
At Sevenoaks Magistrates' Court, Peacock admitted two charges of sexual activity with a child and one of inciting a child to engage in sexual activity.
The mother told BBC South East the girls accepted Peacock as a friend on the social networking site because one of their number had already done so.
"As a parent we want to keep our children safe," she said.
"We think they are streetwise, they have lessons in internet security and yet they were lulled into this trap he set."
During sentencing at Maidstone Crown Court, Peacock was told he would have to sign the sex offenders register and was also given a sexual offenders prevention order.
The mother said he hoped her daughter and the other girls had learnt a lesson.
"I was worried that she would be traumatised by it," she said.
"The police were absolutely fantastic with her and she did seem to very much take it in her stride, which I am pleased about.
"But I am really hopeful that she he learnt a lesson and will be very, very careful in the future."
Facebook launched a "panic button" application in July which allows users to report abuse to the Child Exploitation and Online Protection Centre.
A spokeswoman for the site said: "Facebook is about making connections with people that you know and just as you wouldn't talk to strangers on the street, we urge people not to add or accept friend requests, or meet up with strangers, on Facebook.
"Those who use the internet to groom young people are tenacious in their efforts and have shown that they will use every online and offline opportunity to make contact.
"Sadly, many of those targeted online do not even realise they are being groomed until it is too late."
Related Internet Links
The BBC is not responsible for the content of external sites.