Ofsted finds Kent child protection 'inadequate'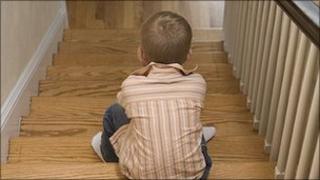 Kent County Council has apologised after an Ofsted report found its childcare protection to be inadequate.
The Ofsted report which followed an unannounced inspection in August found cause for concern about most services intended to protect children.
In the worst cases, children were left unprotected and were at risk of significant harm, the report said.
Council leader Paul Carter said a recovery plan would be implemented and shortcomings would be put right.
He said the council would be implementing every recommendation made by Ofsted and promised substantial improvements by the time Ofsted carried out a follow-up inspection in 12 months' time.
A further statement issued by Kent County Council, Kent Children's Trust, Kent Safeguarding Children Board, NHS West Kent, NHS Eastern and Coastal Kent, Kent and Medway NHS Trust and Kent Police said each one of the agencies had been asked to make improvements.
Inadequate supervision
The statement said: "We fully accept the findings of the report. Where we have fallen short we offer our sincere apologies.
"All agencies are completely focused on putting right the shortcomings and weaknesses that have been identified."
It said referrals had risen by 21% in the past two years and Kent had struggled to recruit enough staff to deal with the increased workload.
But following £5m investment by the council and recruitment campaigns in the UK and overseas, the social worker vacancy rate had halved from 26% in January to 11% currently.
The Ofsted report said services for looked after children in Kent were inadequate overall, mainly because of low educational attainment.
Safeguarding services were inadequate because of a high number of cases not receiving quality assessments, high case loads for social workers, and inadequate management and supervision.
There had been a high number of inappropriate referrals in the area of Child and Adolescent Mental Health Services, and insufficient use of early intervention.