Park and sail saved by Maidstone businesses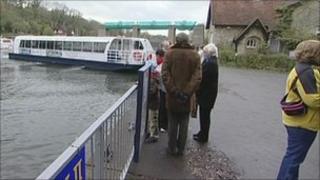 Businesses in a Kent town centre have stepped in to save a park and sail service for Christmas shoppers after the local council pulled out.
The Kentish Lady has ferried about 1,000 shoppers into Maidstone every Christmas for the last 10 years.
It was in danger after the borough council said budget cuts meant it could not sponsor the service this year.
The River Medway service sets sail for the first time on Saturday and will run every weekend until Christmas.
Shoppers park at the Museum of Kent Life at Allington Lock and disembark at Maidstone's Archbishop's Palace.
'Very important'
"Maidstone is a very busy town and we have bucked the trend with empty shops, but our footfall has declined though not as drastically as other towns," said Lee Bennett from Maidstone Town Centre Management.
"This park and sail is very important to the businesses in Maidstone. It is a unique service so we hope people will come to Maidstone just to experience it."
The main sponsor, RAP Office Contracts, said money from ticket sales would be donated to Maidstone Survivors of Bereavement by Suicide.
Councillor Ben Sherreard said he was delighted the service had been saved.
"The decision to stop it this year was taken most reluctantly," he said.
"We wish them every success in this venture and we're pleased that money is going to a very good cause."