Chatham road closure 'will harm business'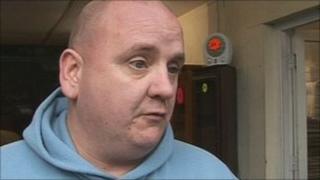 Traders in Chatham, Kent, have said the closure of a main road in order to build a bus station will harm business.
Medway Council said shutting Globe Lane was an essential part of its regeneration plans for the town.
Councillor Rodney Chambers, council leader, said it was a "milestone event" and the "last piece of the jigsaw".
But businesses believe the new road layout will lead to increased congestion and the loss of passing trade.
'Massive investment'
Vic Agnew, of Weavering's Secondhand Furniture, said: "The road closure will force me to relocate my business, which has been here 18 years.
"All my trade is passing trade, people in cars. If there's no road here it's just going to force us to go."
From Monday, traffic from Strood will be directed via Star Hill and New Road while traffic from Gillingham will be diverted along Chatham Hill.
The council and the bus company Arriva have organised a free park-and-ride service to ease traffic congestion on key Christmas shopping days.
Mr Chambers said: "It's the last big change in the remodelling of Chatham's traffic system.
"The benefits of this massive investment in Chatham's future are increasingly plain to see."