Ex soldier from Kent fails to sell Military Cross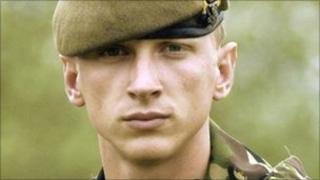 A Military Cross received by a former soldier for risking his life in a firefight in Iraq has failed to find a buyer at auction.
Ryan Copping, 25, from Kent, formerly of 1st Battalion, the Princess of Wales's Royal Regiment, had hoped to receive between £18,000 and £22,000 at Sotheby's in London.
Mr Copping, from Folkestone, had hoped the sale of the medal would help secure the future of his five-year-old daughter, Faith.
Interest was limited in the lot, which included a framed copy of his citation, 11 original photographs, newspaper cuttings and photocopies of congratulatory letters from senior military personnel and the mayor of his home town.
Mr Copping, who now works in the security industry, was the driver of an armoured vehicle which came under small arms and rocket-propelled grenade fire in Basra three years ago.
With the crew struggling to identify the enemy, he opened his driver's hatch, stuck his head out and began steering through streets strewn with obstacles.
Before Tuesday's auction, he said he reached the decision to sell the MC and his Iraq medals so he and his daughter could lead a happier life.
"I don't look at them and see pound notes, but if I don't sell them, they will just pass down through my family and some day, somebody else will sell them," he said.
"So I thought I may as well benefit from them. I have a daughter to look after and bills to pay and I just want us to have a happier life."