Ramsgate shopper reunited with lost £1,770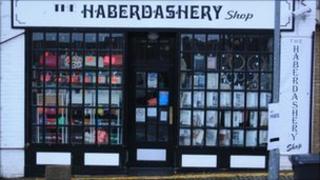 A man who lost rent money taken out of his bank account while shopping in Kent has recovered it after the money was handed into police.
Brandon Thornley had withdrawn £1,770 from his account on Tuesday to pay his rent, but lost it when he slipped over in the snow while shopping in Ramsgate.
Staff at the Haberdashery Shop, Broad Street, found the envelope and handed it in to police.
Mr Thornley said he was overjoyed when he was told it had been found.
He said he had withdrawn the money to pay his landlord, and had placed the envelope in an inside pocket.
"I kept patting myself, and thought it was nice and secure."
But as he returned to his car, he slipped and fell in the snow, hitting his head.
"I guess it [the envelope] must've dislodged when I fell."
Mr Thornley said he then decided to have a look inside the Haberdashery Shop, not realising the cash was missing until he reached his car.
He returned to the shop to ask if it had been found, before reporting his loss to police.
"I was so frantic," he recalled.
'So honest'
Amanda Rooke, deputy manager of the shop, said the envelope with all its cash was found later that day at 1700 GMT by owner Sandra Chapman as she locked up.
"It was at the bottom of a rack, opposite the front of the shop. It had been there all afternoon," she said.
Ms Rooke said they kept the money in the safe overnight, before contacting the local bank and police.
"He was so lucky… the shop had been quite busy and nobody had spotted it.
"Nobody wants to lose that amount of money especially at this time of year," she said.
Mr Thornley said he was extremely pleased the staff had been "so honest" and would "never take that much cash out again".
Sgt Ian Warner, of Kent Police, added they had made "a very worried man's day".
"All too often we hear about people doing wrong and we condone their actions," he said.
"It is refreshing and pleasing to be able to talk about those who have been considerate, acted in kindness and done the right thing."