Arrests over cash point digger raid in Maidstone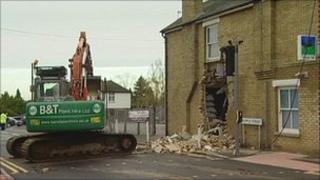 Two men have been arrested by police investigating the theft of a cash machine which was ripped from a bank wall with a mechanical digger.
The men, aged 49 and 32, were arrested on suspicion of theft and freed on police bail until 17 February.
During the incident on 13 November, an excavator taken from a nearby building site was seen being driven into Lloyds TSB in Loose Road, Maidstone.
No-one was hurt during the raid and no weapons were used.
Police said the cash machine was then loaded on to a blue pick-up truck which made off, while the excavator was left behind at the scene.
The blue pick-up truck was later abandoned on a track near Longend Road in Claygate near Marden.