Trust moves into Margate's Turner Contemporary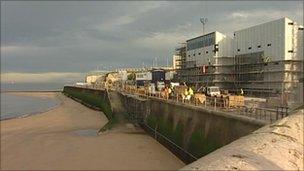 Kent County Council has officially handed over the £17.4m Turner Contemporary art gallery to its new tenants.
Staff from the trust which will run the gallery will move in over the next couple of weeks.
The gallery is located on the seafront site of a cottage where the 19th Century artist JMW Turner lived.
It will open to the public on 16 April next year with an exhibition which will include a little-known Turner painting.
The gallery will show a combination of contemporary art and historical work, but will focus on Turner's legacy.
Turner's painting, The Eruption of the Souffrier Mountains, will be on loan from the University of Liverpool.
Building work on the gallery, designed by architect David Chipperfield, started in November 2008.
The gallery is the focus of plans to regenerate the Kent town.
Thanet council has pledged to bring empty shops back into use and improve the town's signage, lighting, seafront shelters, railway station forecourt, and Arcadian Hotel.
The Arts Council England, the South East England Development Agency and Kent County Council are among bodies which provided funding for the gallery.
Related Internet Links
The BBC is not responsible for the content of external sites.