Canterbury Cathedral appeal reaches £11.5m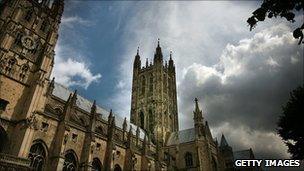 An appeal to raise £50m to stop Canterbury Cathedral from crumbling has reached £11.5m since it was launched four years ago.
The Dean of the cathedral, the Very Rev Dr Robert Willis, said the figure, announced to congregations on Sunday, was wonderful news.
"We have raised more than £1.5m since the beginning of April, which is a marvellous Christmas present," he said.
The money raised this year will go towards work on the Great South Window.
Some of the glass in the window dates from the 12th Century and includes a series depicting Old Testament figures such as Methusaleh and Noah.
Conservation work on the window began in 2009.
Craftsmen and women will also be working on the north side of the Corona Chapel during 2011.
The appeal to save the 900-year-old cathedral got under way in October 2006.
"The money we have raised during 2010 will enable our major programme of work to proceed during 2011," said Matthew Butler, chief executive of the Canterbury Gift charity.
"However, Canterbury Cathedral still needs many millions of pounds and every pound that is given is important.
"We receive no help from government, local authorities or the Church of England towards the cost of the vital conservation work."
Related Internet Links
The BBC is not responsible for the content of external sites.