'Virtual court' for drink drivers in north Kent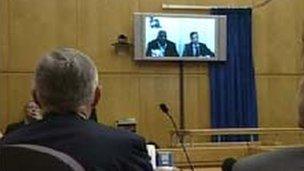 Police in Kent have begun using a "virtual court" in a bid to get alleged drink-drivers off the roads faster.
Two people have been dealt with under the scheme since its launch at the beginning of the month.
Anyone caught under the influence has their case heard at North Kent police station, which is connected to Medway Magistrates' Court by video link.
Those who are guilty can have their licences taken away through disqualification the same day.
People arrested and then charged with drink-driving are normally bailed for 15 days to appear before magistrates and are still permitted to drive.
One driver, a 39-year-old man arrested on Friday, appeared before the virtual court and was given an interim ban and bailed to appear in court again on 7 January.
A 60-year-old man charged with being drunk in charge of a mobility scooter was ordered to pay £85 costs and given a 12-month conditional discharge the same day.
Virtual courts were first used in a pilot scheme in south London last year, which linked Charing Cross Police Station with Camberwell Green Magistrates' Court.
Related Internet Links
The BBC is not responsible for the content of external sites.