Lure of Kent shopping giants 'may drive away customers'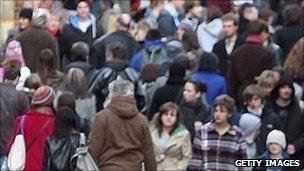 Traders are calling for urgent action to ease traffic congestion at a Kent retail park amid fears customers are being driven elsewhere.
They say problems have escalated since John Lewis and Marks & Spencer opened flagship stores on the North Farm retail estate near Tunbridge Wells.
The borough council and Kent County Council have held crisis talks.
But they suggest long-term answers may have to wait until major road improvements are carried out.
Traffic problems on the already busy A21 north of the town have been magnified since the opening of the superstores at the North Farm estate in recent months.
Steven Archer, chairman of the North Farm Business Group, said: "The regular meetings we hold with heads of business have highlighted the traffic issues for quite some time now. The frustrations are that we do a lot of talking but we don't seem to see much in the way of action."
Tim Smith, who runs an auto-electric business on the estate, said he had already lost some trade and knew of some people who were prepared to trek to Eastbourne rather than use the Tunbridge Wells site.
"It is further, but they are moving all the time. They are not stuck in traffic and they can park, so they are actually avoiding the estate because of it," he said.
"We lose a certain percentage of business because people give up trying to get to us. We get a lot of customer complaints."
But council leader Roy Bullock said he had seen no evidence of trade being lost to other areas and he said part of the problem had been the piecemeal nature of the estate's growth, which meant there had been only "incremental" road improvements.
Now borough and county council officials are going back to the drawing board to come up with suitable traffic measures.
"We are going to start with a blank piece of paper as though we were designing an entirely new retail park."
But Mr Bullock admitted even once a plan had been devised, money still needed to be found.
In the meantime, he said councils were considering short-term measures, such as altering traffic light phasing and widening part of the road.
He suggested a longer-term solution should come when the A21 is turned into a dual carriageway.
But the £125m project has been deferred until at least 2015.
Related Internet Links
The BBC is not responsible for the content of external sites.