Severe weather continues to cause travel problems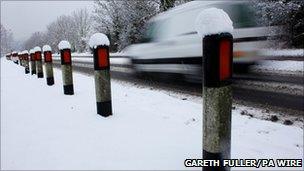 Motorists and rail passengers have been facing more disruption as severe weather conditions continue in Kent.
Services by Southeastern trains, Southern Railway and First Capital Connect were all affected on Tuesday.
Hundreds of passengers were stuck for up to five hours on trains in Swanley and Kemsing overnight because of icy rails.
Most people were transferred to buses by Southeastern but some had to get taxis home.
Robyn Higson, who was stuck at Kemsing, said: "We weren't provided with any water, it was freezing cold and there were so many young children on that train as well.
"Although the staff tried to do as much as they can, seeing that two weeks ago trains were stranded around the Sevenoaks and Orpington area I would have thought Southeastern would have put into place some more contingency plans."
Sarah Boundy, from Southeastern, said: "I'm really sorry that people had such a miserable, cold experience yesterday evening trying to get home.
"We do try to do all we can to keep the trains moving and get people on their journeys to get them home."
Wintry conditions also disrupted cross-Channel rail services, with Eurostar passengers facing queues of at least three hours at stations.
On Tuesday, the operator said about 80% of its services were running but there were speed restrictions on services to and from London, Ebbsfleet and Ashford.
The company's website said it planned to run a "near normal" service on Wednesday, with nine out of 52 trains expected to be cancelled.
Passengers were urged to arrive at the station on Wednesday only one hour before their departure time, in order to avoid congestion and an unnecessary wait.
The rail operator warned of continued delays and longer journey times and said speed restrictions were still in place on the French high speed network.
Kent Police again urged drivers to take extra care on the roads after further snow.
Dover Coastguard was helping to transport some patients with urgent but non-emergency appointments to hospital.
Southeastern and Southern were both returning to a normal service on Tuesday. First Capital Connect was still operating a reduced timetable because of the weather conditions.
Related Internet Links
The BBC is not responsible for the content of external sites.