Kent council tax arrears exceed £21m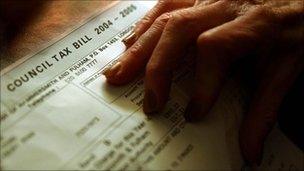 Councils in Kent failed to collect £21m worth of tax payments during a 12-month period, it has been revealed.
Figures obtained in a Freedom of Information Act (FoI) request showed £21,073,314 went uncollected by borough and district councils in 2010/2009.
Medway was owed £4.2m and Maidstone, Thanet and Gravesham councils all had arrears of more than£2m.
Tunbridge Wells and Tonbridge and Malling had the smallest outstanding debts of £981,000 and £784,000.
The FoI request also revealed that £3,811,064 was still owed to the authorities from 2005/2006.
Mike Snelling, leader of Gravesham Borough Council, said: "As of the 1st December that [£2m] figure was down to just over £1.3m which really demonstrates just how effective we are at the way in which we collect outstanding debts.
"It has no impact at all on the way we constructed our budget for the forthcoming year, no impact whatsoever on jobs or cuts, in fact, we're not making any frontline cuts.
"In balance sheet terms it's a debt outstanding which we've got to collect like any other company and we will collect most of that debt."
The GMB Union said the figures were unacceptable and has called for the rules to be revamped to make it difficult for people to avoid paying council tax.
Paul Maloney, of the GMB, said: "I think it should be included in the rent that the landlord is charging. That would resolve the problem.
"If a landlord is letting houses then they pay the council tax and recover it as part of their rent process from the tenants."
Ann Valentine, of the Citizens Advice Bureau, said people did not realise how quickly things could escalate.
She added: "We have people come in who seem genuinely surprised when they are taken to court relatively quickly for non-payment of council tax.
"Once that escalation kicks in, it kicks in very fast."
She urged people to seek help as soon they started to have problems paying their council tax.
Related Internet Links
The BBC is not responsible for the content of external sites.