More gangs set to repair potholes on roads across Kent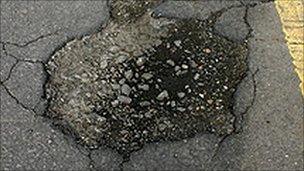 Extra workers are being brought in to repair the damage caused to Kent's roads by the recent severe weather.
Earlier this year, the county council spent £6.5m repairing 31,000 potholes caused by last winter's icy weather.
It has now employed an extra 12 crews to work alongside the existing 33 teams to repair the fresh damage to roads.
The gangs will aim to make a permanent first-time repair where possible. Engineers will then take stock in the spring to see if more action is needed.
Related Internet Links
The BBC is not responsible for the content of external sites.