Students in Kent university sit-in write to Archbishop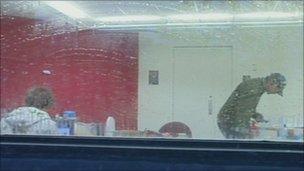 Students occupying a University of Kent building to protest at education cuts and rises in tuition fees have written to the Archbishop of Canterbury.
The five students have been in the Senate building at the Canterbury campus since 8 December.
They want the university and its vice-chancellor Julia Goodfellow to condemn the government's plans publicly.
They have asked the Archbishop, Dr Rowan Williams, to act as mediator.
University officials aim to regain control of the building by seeking a possession order at a hearing at Canterbury County Court on 7 January.
The students are demanding Professor Goodfellow publicly condemn, through the university website, the Parliamentary vote for the rise in tuition fees and the proposed cuts in education.
They have also demanded that she retract herself as signatory of a letter published in the Daily Telegraph on 8 December.
The letter opposed education cuts, but given that they would take place, supported the government's proposals for university funding.
Professor Goodfellow has since written an open letter in which she again deplored the cuts to higher education funding, but the students said this did not meet their demands.
The students wrote to the Archbishop in the hope that as a visitor to the university he would help resolve the impasse.
Ben Stevenson, a 20-year-old philosophy student taking part in the protest, said on Thursday that no response had been received.
In a statement, the students said the "savage cuts and substantial rise in fees should not be under-estimated" and education "should be seen as a public good and therefore a crucial investment".
Supporters have been turning up with food donations for the protesters.
No-one from the university was available for comment on Thursday, but in a previously-issued statement, it said it had sought to establish common ground with the students.
A candlelit vigil is due to be held at 1700 GMT on 1 January outside the occupied Senate building to show support for the protesters.
Related Internet Links
The BBC is not responsible for the content of external sites.