Kent council plans changes to council housing criteria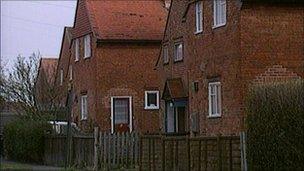 A local authority in Kent wants to make it harder for people from outside the area to access council housing.
Gravesham Borough Council believes people with no local connection should no longer automatically get on the housing waiting list.
Instead, households without a local connection would have to face a special panel to rule on their eligibility.
A homeless charity fears the plans could have a negative impact on vulnerable people.
The Conservative-controlled council said the change was necessary because of government plans to cap housing benefit.
It said the cap could lead to an increase in people from more expensive areas such as London seeking cheaper accommodation elsewhere.
Councillor Tony Pritchard, the cabinet member for housing, said: "This change aims to underpin our policy of providing local homes for local people.
"It is our prime objective to provide good quality social housing first and foremost for the people of Gravesham."
The council has about 3,180 households on its waiting list, with an average two-year wait for a four-bedroom house.
Karen Hurley, of the homelessness charity Medway Cyrenians, said: "My fears are that people will just keep being moved on.
"If doors are being closed through you not having a local connection, it will become harder and harder for those people who are most vulnerable to receive a service."
The proposal will be discussed by the council's cabinet on 10 January.
Related Internet Links
The BBC is not responsible for the content of external sites.