Hildenborough homes without water after second burst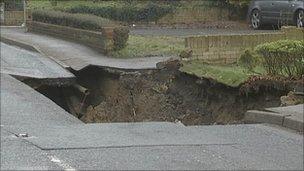 More than 100 homes in a Kent town were without water after a mains pipe burst for the second time in seven months.
The rupture, near St John's Church, Hildenborough, happened at the site of a similar burst in June 2010 which left thousands of residents without water.
Resident Mary Drury said: "I do appreciate the ground has been frozen, but I think where they repaired it last time it shouldn't have gone again."
South East Water said it apologised for the inconvenience caused.
It said it had been able to re-route water from other parts of the network to ensure most people had water following Sunday's burst and hoped to restore supplies to remaining customers by the afternoon.
The company also said it would look into whether the pipe should be replaced.
The burst in Hildenborough came a day after a burst water main caused a section of the main road through Meopham to collapse.
About 250 homes in the village were left without water on Saturday and six still had no supply on Sunday morning.
Southern Water said it hoped water and power would be restored to the remaining homes on Sunday.
Spokesman Trevor Clark said the company had dealt with double the number of bursts in December 2010 compared with the same month in 2009.
"We have had cold weather over the Christmas period and before Christmas and the thaw after Christmas," he said.
"We've had many bursts where the ground moves and it has caused our pipes to fracture."
It is expected that traffic on the A227 Wrotham Road will be affected for several weeks.
Related Internet Links
The BBC is not responsible for the content of external sites.