University of Kent student sit-in to end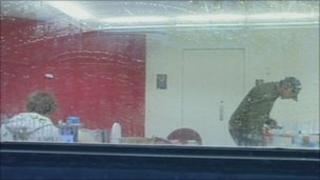 Students occupying a building at the University of Kent have said their protest at education cuts and rises in tuition fees is to end.
The group began its sit-in at the Senate building at the Canterbury campus on 8 December.
Other university sit-ins ended last month but the Kent protest continued.
University officials aim to regain control of the building by seeking a possession order at a hearing at Canterbury County Court on Friday.
But the students have agreed to leave the building peacefully at 1400 GMT on Wednesday.
One of the students, Ben Stevenson, 20, said: "I suppose we feel as though we have done as much as we can.
"We know that the university would get a possession order because it's their building, but we feel as if we are leaving on our terms.
"We are still very much in dispute with the university and we will be continuing our campaigning once we are out."
Food parcels
The group has said there are currently seven students in the Senate building.
They have spent much of Christmas without heating and living on food parcels passed to them via the security officers in the building.
The protesters have called on the university and its vice-chancellor Julia Goodfellow to condemn the government's plans publicly.
They have also demanded that she retract herself as signatory of a letter, published in the Daily Telegraph on 8 December, which opposed cuts but also supported government plans for university funding.
Professor Goodfellow has since written an open letter in which she again deplored the cuts to higher education funding, but the students said this did not meet their demands.
In a statement, the university said it was "sympathetic to the concerns of the students" and "deplored" the proposed cuts.
It said it had ensured the Senate building was heated and the students had access to electricity, toilets and water.