Aldington lorry park plan hits setback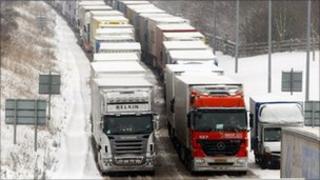 A local authority will persist with plans to build a lorry park on the M20 in Kent despite a government decision not to pay for it.
Kent County Council had hoped the government would agree £35m funding for the 70-acre site near Aldington.
The aim is to stop trucks having to queue on the M20 during cross-Channel delays.
But the Department of Communities and Local Government said the funding was not available.
Under Operation Stack, vehicles currently park on the motorway when cross-Channel transport is blocked.
'Better spent'
Paul Carter, the leader of the Conservative-controlled council, said he would seek alternative ways to fund the project.
He said: "Every time Operation Stack takes place it disrupts the private lives, the business lives, of everybody in that corner of Kent. It's not good enough.
"Nobody has come up with a more viable and better site than the one we are working on presently."
Matt Baldwin, who lives near the site, has campaigned against the proposal.
He said: "There are plenty of other ways that this money could be better spent to serve the residents of Kent."