Kent woman died in Ibiza hit and run, inquest hears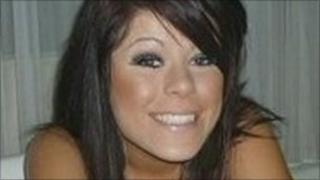 A Kent woman died after being struck in a hit-and-run crash in Ibiza, an inquest has heard.
Francesca Foulkes, a 21-year-old debt recovery agent of Wigmore near Rainham, died last July following a night out in San Antonio.
A man has been charged with negligent homicide, reckless driving, drink-driving and a hit-and-run offence.
The crash happened as she was walking back to her apartment at about 0230 local time on Sunday 25 July 2010.
The inquest in Maidstone was told the Ms Foulkes and her friend, Jessica Read, were walking hand-in-hand towards oncoming traffic trying to find a space among parked cars to step on to the pavement.
'Fantastic daughter'
Ms Read recalled how she noticed one car in particular driving at high speed towards them, "closer to the parked cars than the others".
"As I saw it coming towards us, I looked back to her to check that she wasn't in the way. I went to pull her in and it was just a bit too quick," she told the inquest.
Ms Foulkes was thrown about two car lengths by the high-speed impact into a parked vehicle, causing her massive injuries.
A post-mortem examination found she died from a fracture to the base of her skull.
Coroner Roger Sykes recorded a narrative verdict, and said he could not record a verdict of unlawful killing as that may prejudge the outcome of the upcoming Spanish court proceedings.
Outside the hearing, Ms Foulkes' father, Julian, said: "She was a fantastic daughter. I couldn't have wished for a better daughter.
"I had her for 21 fantastic years."