Arrests over heating oil thefts in Kent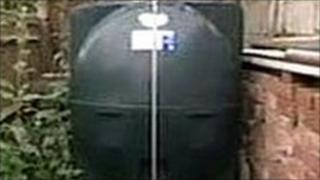 Two people have been arrested on suspicion of stealing domestic heating oil as police deal with a spate of oil thefts at houses in Kent.
Kent Police said there had been six recent reports of oil thefts ranging in value from £250 to £1,000.
In one incident in Stockbury, damage worth £500 was caused to an oil storage tank.
Det Insp Susie Harper said it was thought the rising price of oil was behind the increase in incidents.
The two people arrested on Thursday, a 16-year-old boy and a 20-year-old man from the Maidstone area, have been bailed pending further inquiries.
Det Insp Harper urged people to secure their property.
She said: "Victims of oil theft often wake up to a cold, unheated house, thinking that their boiler has broken down.
"It's only when they investigate further that they realise that the oil has been stolen."
She suggested fitting a gauge to set off an alarm if the oil level suddenly falls, using padlocks, installing security lights and a lockable cage, and planting a thorny hedge to deter thieves.