Kent's Kate Middleton barred from Facebook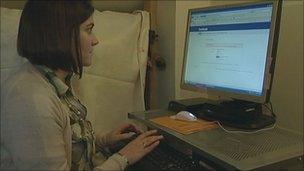 A mother from Kent has been told she cannot use her Facebook account because she shares a name with Prince William's fiancee.
Kate Middleton, from Pembury, said the social networking site had accused her of impersonating her famous namesake.
Ms Middleton, who set up her account two years ago, said she was shocked at the decision.
Facebook said it made the occasional mistake and would seek to resolve the issue.
Ms Middleton said: "I was quite shocked because I'd started writing an e-mail to all my friends and went to press send and it came up to say I had to login.
"I logged in and it came up to say I was a fake and my account had been disabled.
"They said I couldn't use my name because I was impersonating someone famous, which I'm not, as I am Kate Middleton."
Ms Middleton said she was waiting to see if Facebook would reactivate her account.
Facebook said it reviewed thousands of pieces of content a day and took action to ensure the website remains a safe and trusted environment.
Prince William and Kate Middleton are getting married at Westminster Abbey on Friday 29 April.
Related Internet Links
The BBC is not responsible for the content of external sites.