Boy from Strood runs up £1,000 Xbox bill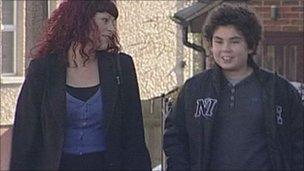 A Kent mother is warning other parents after her 11-year-old son spent more than £1,000 on a live internet games console without her knowledge.
Dawn Matthews entered her bank details into Brendan Jordon's Microsoft Xbox so he could play friends online, but turned off parental control by mistake.
She did not realise Brendan was buying extra features and games until her bank card was refused for a bill payment.
Microsoft said it gave parents the tools to manage children's gaming.
Ms Matthews, from Strood, said Brendan spent amounts as small as £4.50 but they added up over six months.
She said she had not been checking her bank statements because her laptop was broken.
"I said to Brendan, 'Have you been buying things from your Xbox', and he said yes," she said.
"But when I showed him the total he burst into tears."
Brendan said he spent the £1,087 total unknowingly.
"It was just me wanting to get all this stuff which other people have which I don't have and I was getting jealous," he said.
His mother has now started a Facebook campaign to warn other parents not to make her mistake.
Brendan had to go without presents on his birthday to make up for his spending.
Microsoft said in a statement that there were more than 30 million Xbox Live members across the world and complaints of this nature were extremely rare.
Live accounts registered for children's use have online activity automatically switched off, but it can be enabled by the parent in the Family Settings section.
"We have recently launched the Play Smart, Play Safe website as an online resource for families," it added.
"This site brings together the most current parental control tools, expert tips and resources to help families make educated decisions on what and how children play, watch and browse."
Related Internet Links
The BBC is not responsible for the content of external sites.