Wife of bomb accused soldier recalls car blast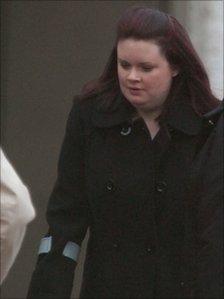 The wife of a former soldier accused of trying to murder her by booby-trapping her car has described the moment an explosion ripped through her vehicle.
Victoria Fabian, 33, suffered serious leg injuries in the blast in Vigo, Kent, on 5 March last year.
Her husband, Nicholas Fabian, also 33, denies attempted murder at Maidstone Crown Court.
The prosecution argues Mr Fabian stole a hand grenade from a firing range and planted it in the car.
Mrs Fabian, who still walks with crutches, was giving evidence on the second day of the trial.
She said the family had planned to return the Mazda car she had borrowed from her mother and take the children for a haircut before going for a meal.
She said she got in the borrowed car with Charlie, her son from a previous relationship.
Her husband got in the family's Vauxhall Zafira with their own son Harry, then aged three.
Mrs Fabian said she started to reverse out of the parking bay.
"The windscreen shattered and there was a loud bang," she said.
"I can remember thinking a tree or something had fallen on the car and Charlie was asking me what had happened, and I couldn't feel anything from my waist down so I told him to get out of the car."
She said the next thing she remembered was her husband running towards her crying.
"He was trying to get me out of the car," she said. "I remember feeling that I was losing a lot of blood."
Mrs Fabian was pregnant at the time of the blast but gave birth to a healthy baby boy three months later.
Jurors were told Charlie, eight, managed to get out of the passenger door unscathed.
A neighbour also rushed to help get her out of the vehicle and extinguish Mrs Fabian's jeans, which were on fire, before the car was engulfed in flames.
The explosion blasted holes in Mrs Fabian's legs and she needed skin grafts to repair the damage. She was in hospital for two months.
Earlier, the court was told Mrs Fabian confronted her husband the day before the explosion happened after discovering he had run up £1,400 of debt on a credit card.
She had also suspected he was having an affair with a woman named Jackie Phillips, whom he knew from working at the Battersea Dogs Home site at Brands Hatch.
When asked by prosecutor Graham Reeds QC what her relationship with Mr Fabian had been like, she said: "He was a good husband and a good dad."
But questioned further, she added: "There were ups and downs. Probably more downs."
Later, Ms Phillips gave evidence, saying she had embarked on an affair with Mr Fabian after he started working at the dogs' home in 2009.
Asked if Mr Fabian had ever talked about his relationship with his wife, she replied: "He said that he didn't love her any more, that they were only really together for the sake of the children."
Jurors previously heard Mr Fabian was a reservist soldier after serving in the Army between 1994 and 2004, and had been called up to do a tour of Afghanistan in January last year.
Mr Fabian denies attempted murder, causing grievous bodily harm with intent and causing an explosion likely to endanger life.
Related Internet Links
The BBC is not responsible for the content of external sites.