Grenade 'could kill 10m away'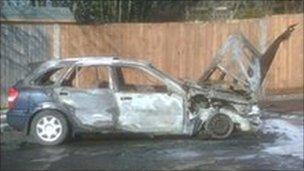 The type of grenade a former soldier allegedly used to try to murder his wife in a car blast could kill someone within 10 metres, a court has heard.
Victoria Fabian, 33, was pregnant when she suffered severe leg injuries in the explosion in Vigo, Kent, in March 2010.
Nicholas Fabian, also 33, is accused of planting a grenade in the car's foot well. He denies attempted murder.
Maidstone Crown Court heard the British Army issue L109 device could explode five seconds after the ring was pulled.
Forensic scientist Sarah Wilson told the court the type of explosive allegedly used by Mr Fabian had a lethal range of 10m and a completely safe distance would be 20m.
She said: "It is my opinion that a grenade which contained high explosive was inserted in the wheel area which would explain the damage to the vehicle."
She added that the L109s contained 155 grammes of high explosive and could shower up to 2,000 fragments.
A hand grenade lever, a grenade safety pin and fishing hook were among items found near the burnt out Mazda in a car park behind the couple's home in Highview.
Mrs Fabian, who gave birth to a healthy baby boy three months after the blast, still walks with the aid of crutches.
Her son, aged eight at the time, was also in the car at the time of the blast but escaped unhurt.
Ms Wilson explained to the court a possible theory on how the grenade could have detonated, after hearing how the explosion happened when Mrs Fabian reversed out of a parking bay.
She said: "To detonate it, you have to pull out the pin.
"One possible method of initiation would be to attach something to the pin, anchor that to something else, like the wheel, and when the vehicle begins to move the hook and line tighten and eventually pulls out the pin."
Mr Fabian, who was an army reservist for 10 years, denies attempted murder, causing grievous bodily harm with intent and causing an explosion likely to endanger life.
The court heard that during a search of his property, police found a mini flare, parts of a pipe bomb and a box with broken-down fireworks parts with fuses attached, turning them into improvised explosives.
Also found were 95 rounds of rifle bullets.
Jurors have been told Mr Fabian had pleaded guilty to a charge of possessing ammunition without a firearms licence but claimed he had taken them from a training exercise by accident.
Related Internet Links
The BBC is not responsible for the content of external sites.